H13-17 Precision Programmable Shocker Manual
This manual will help you get to know your H13-17 shocker System.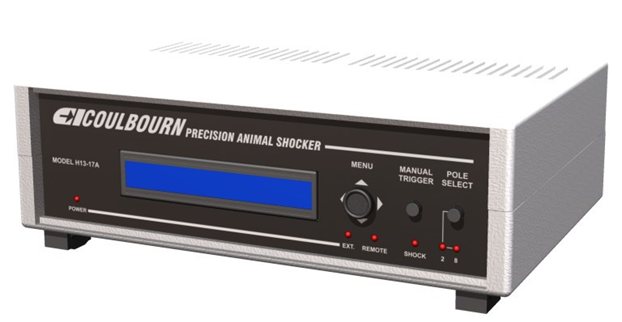 Application Overview
The H13-17 shocker is totally isolated (floating output) for operator and subject safety, as well as isolation from other sources of electrical stimulation such as physiological stimulators that may be in use concurrently. The unit can function as a two-pole (bipolar) shocker or as a scanner distributing the square wave, polarity reversal across an 8-pole output for grid floor applications. Shock amplitudes from as small as one microamp (0.001 milliamp) to five milliamps can be delivered in increments of one microamp with the H13-17.
The amplitude can be set manually or can be programmed by a 0 to 2.5 Volt DC signal allowing the amplitude of the shock stimulus to be changed during an experimental session. The duration of the shock stimulus can be controlled by an external trigger source (5 to 30 volts DC) or when precision timing is not required, by manually pressing a button on the front panel of the shocker.
What You Will Be Learning:
Installation
Shocker Setup
Operating the Shocker
Reset Shocker
Specification